March 2, 2012
22nd annual Clinic With A Heart serves 279 Inland Empire residents
Two hundred and fifty adults and 29 children from the Inland Empire with outstanding oral healthcare needs received treatment at no cost Sunday, January 22, 2012, at the Loma Linda University School of Dentistry's 22nd annual Clinic With A Heart.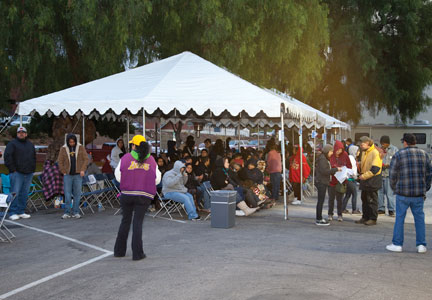 Each of the 279 patients received a cleaning, a filling, or an extraction—and in the process an assessment of what else was needed to restore and maintain their oral health.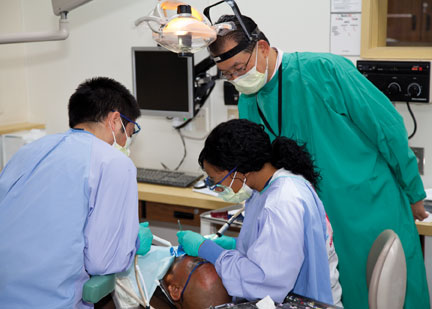 Despite the temporary absence of Mary Hartwell, the School of Dentistry's dental clinics manager, who since 1990 has overseen the annual event, her three administrative assistants, Robin Fierro-Navarro, Miriam Yanez, and Lydia Perez, and the rest of Ms. Hartwell's regular team, carried on in her absence along with 474 other volunteers—a Clinic With A Heart record.
The 477 volunteers of the School's 22nd Clinic With A Heart were comprised of
45 LLU Faculty
13 LLU Residents
66 LLU Staff
40 Fourth-year dental students
48 Third-year dental students
29 Second-year dental students
45 First-year dental students
30 Junior dental hygiene students
39 Senior dental hygiene students
11 Chaffey College dental assisting students
30 Baldy View Regional Occupational dental assisting students
11 Riverside City College dental assisting/hygiene students
8 LLU School of Nursing students
33 International Dentist Program students
29 Visiting volunteers
The efficiently run event provided a record total of $45,455 in dental services.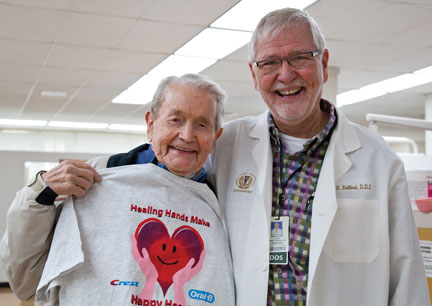 Procter & Gamble Company's subsidiaries, Crest and Oral-B, continue to support Clinic With A Heart, through their dental science liaison manager Desi Nuckolls, by funding the 500 custom t-shirts ordered from "Special T's" for the volunteers, as well as contributing $1,000 for the needy kids fund and $250 for toothbrushes and toothpaste.