May 30, 2013
Margie Arnett named Woman of Distinction
Margie Arnett, MS, assistant professor, office of the dean, LLU School of Dentistry, was honored by Assemblyman Mike Morrell, R-Rancho Cucamonga, as a Woman of Distinction, along with 58 other women from Redlands, Loma Linda, Highland, San Bernardino, and Rancho Cucamonga for their work in a variety of fields.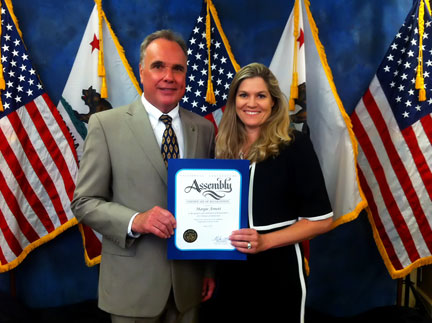 Margie was nominated by Inland Empire residents who felt she made a significant contribution to her community through volunteerism, dedication, and service.
Assemblyman Morrell hosted the Ninth Annual Women of Distinction Luncheon May 16 at the San Bernardino Hilton to recognize women from throughout the Inland Empire who are making a positive difference in their communities.
"A defining feature of this year's ceremony was the opportunity to honor up-and-coming women who I know will achieve even bigger things in the future," said Morrell. "Their outstanding service is an inspiration to their peers and a source of pride for the Inland Empire."