May 21, 2009
LLUSD table clinic teams win a lot
A Loma Linda University Dental Hygiene student group (pictured below) won first place at the California Dental Hygiene Association Table Clinic Competition Friday, May 15, 2009, at the Anaheim Convention Center. But that was just the beginning.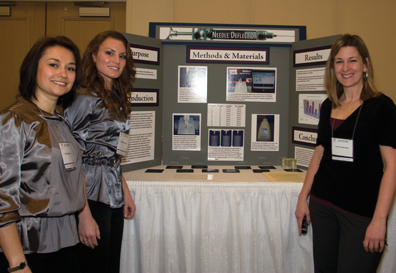 Two days later, the California Dental Association Table Clinic Competition took place at the same location. Of the combined dentistry and dental hygiene entries, twelve (or 30 percent) of the 40 participating groups were comprised of Loma Linda University School of Dentistry students. Most importantly, nine (or 56.25 percent) of the 16 winning groups were from the School. Among the nine winning LLUSD table clinics, six (two 1st place, three 3rd place, and one honorable mention) were the work of dental students, and three (one 2nd, one 3rd, and one honorable mention) were created by dental hygiene students.
The nine winning LLUSD entries are listed below by professional and contest categories (including photos of the teams that took first place in specific categories). Among them they won $2,200 of the $4,200 total awarded.
Dentistry contestants
Community/Education
1st place: "Principles and Techniques of Intraoral Suturing"
Justin Weaver, Emily Herndon, Kari McCloskey
Mentors: Wayne Tanaka, Mei Lu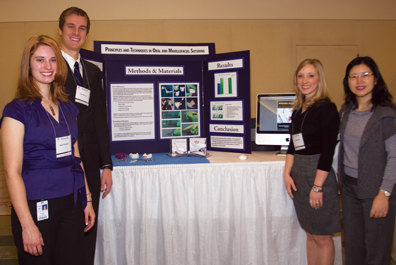 3rd place: "VisionStar Solo"
Luke Cockerham, Nicholas Wilson
Mentors: Charles Goodacre, Mei Lu
Clinical
1st place: "Gow Gates Target Area and Maxillary Artery Anatomy"
Stuart Seheult, Jerhet Ask, Nicholas Marongiu
Mentors: Barry Krall, Mei Lu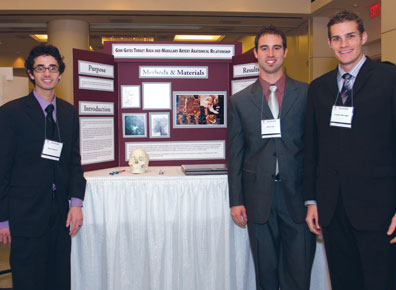 3rd place: "Can you Save a Life?"
Lisa Gortari, Damien Garcia, Lauren Gutenberg
Mentors: Barry Krall, Mei Lu
4th place (Honorable Mention): "CPP-ACP Effects After Whitening Treatment"
Weston Spencer, Brian Harward, Sharin Johnson
Mentors: Holli Riter, Mei Lu
Scientific/Laboratory
3rd place: "Comparison of Bond Strength and Surface Finish"
Nathan Adams, Jamie Atiga
Mentors: Holli Riter, Mei Lu
Dental Hygiene Contestants
2nd place: "Needle deflection"
Tracy Robertson, Melissa Beesley, Olga Shaklova
Mentors: Barry Krall, Joni Stephens
3rd place: "A Comparison of Two Dental Varnishes"
Shannon Chennault, Lori Lujan, Cortney Bellinger
Mentor: Michelle Hurlbutt
4th place (Honorable Mention): "Dental Care for Mommy and Me"
Shaelene Trees
Mentors: Joni Stephens and Darlene Cheek