May 29, 2009
School of Dentistry Commencement 2009
Both relief and the joy were displayed palpably on the green quadrangle that supported the Loma Linda University School of Dentistry's 53rd graduation ceremony.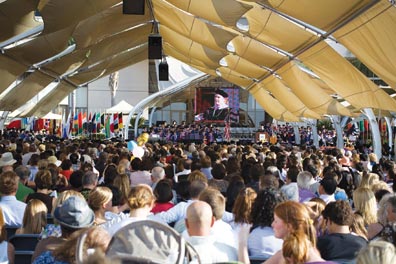 Surrounded on three sides by the LLU Medical Center, the School of Dentistry, and the University Church that among them represent the body, mind, and spirit motif that comprises the Seventh-day Adventist conception of humanity, the awarding of 188 degrees and certificates proceeded as planned: Doctors of Dental Surgery (90), Bachelor of Science in Dental Hygiene (42), International Dentist Program Doctors of Dental Surgery (20), and Advanced Education degrees (36).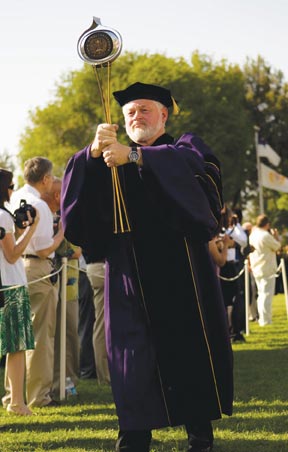 Ronald Carter, PhD, LLU provost and Commencement Marshall, stood supporting the University's academic mace (that symbolizes the authority of the institution), as he faced north, justifiably proud and academic, for seventeen minutes of procession accompanied by the Loma Linda Academy symphonic band's live looping of Pomp and Circumstance March No. 4 (Sir Edward Elgar).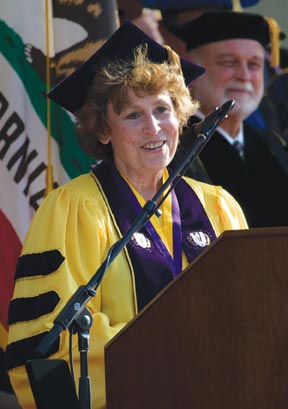 Joni Stephens, EdS, MS, professor, Department of Dental Hygiene, gave the invocation.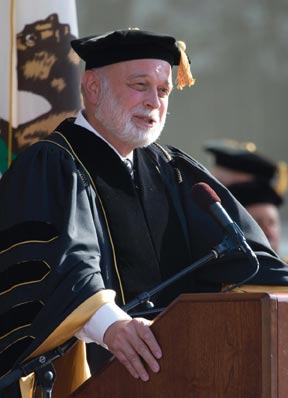 Hart, MD, DrPH, president, Loma Linda University, welcomed the graduates, their faculty, their families and friends.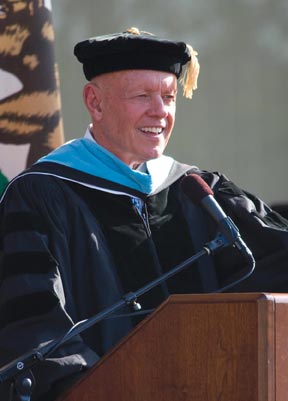 Goodacre, DDS, MSD, dean, School of Dentistry, introduced the baccalaureate speaker, Stephen R. Covey, vice chairman of FranklinCovey, Inc., the world's largest management and leadership development organization, and author of The Seven Habits of Highly Effective People and several other bestselling books. Covey resonated to the University's motto, "to make man whole," finding it congruent with his call (and address title) to "lead your life by a compass, not a clock"—a continual challenge for any professional in a digital, sound-bite, nanosecond age. "Live, love, lead, and leave a legacy of service," Covey concluded.

The respondents spoke briefly. Dental Hygiene class president, Jamie Lee Patton, noted that she and her compatriots made up the School's fiftieth graduating Dental Hygiene class. And Dentistry graduating class president, Ryan Falke, remarked the important obvious, that "commencement is just the beginning of something."
Doubtless the most emotional moment of the ceremony was when Sharon Foster struggled across the dais to receive her Doctor of Dental Surgery Degree. A foster child who has been battling cancer for several years, Sharon persevered against so many odds to cross the finish line she had set for herself at Mesa Grande Academy.
Among so many honors awarded during the conferring of degrees, three went to LLUSD faculty.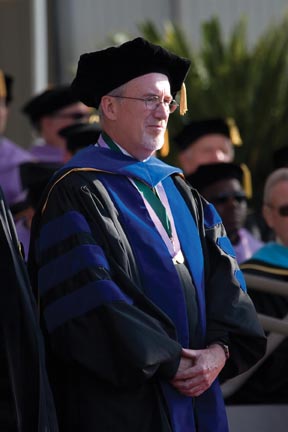 Teacher of the Year, established for faculty who have made an extraordinary impact on students, peers, and the School in general, was awarded to Kenneth R. Wright, PhD, faculty of Graduate Studies and associate professor, Pathology and Human Anatomy, School of Medicine.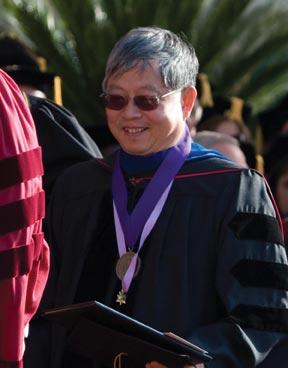 For outstanding contributions to research in the School of Dentistry, Yiming Li, DDS, PhD, director, Center for Dental Research, was presented the School Distinguished Research Award.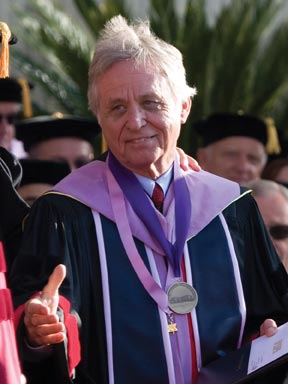 And Steven Morrow, SD '60, MS, director of Patient Care Services and Clinical Quality Assurance, was given the Distinguished Service Award.