June 1, 2009
Four-time winner
Dr. Klaus Wolfram, SD'71, MS'73, West German immigrant by way of Canada (1958) and the United States Army (1960-1963), was awarded the International Dental Program Teacher of the Year for the fourth consecutive year.
Because young Klaus was "bored in Berlin," Dr. Wolfram now recalls, he travelled to Canada in 1958. After two years there he took advantage of the opportunity to fast track into American citizenship in exchange for three years of US Army service during which he served in the Medical Corps and rose to the rank of Sergeant.
The Medical Corps piqued his interest in healthcare which led him to complete a pre-dental program at Los Angeles City College. After earning his Doctor of Dental Surgery degree and finishing LLUSD's Advanced Education Program in Periodontics, Dr. Wolfram taught at the School on Fridays for the next decade, until his private practice demands made teaching days impractical.
Dr. Wolfram returned to the School and its Department of Periodontics full time in 1991, and was assigned to the International Dentist Program in 2005.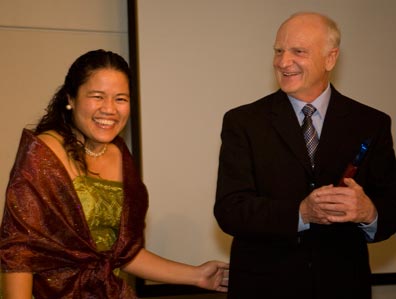 At the IDP graduation banquet in March, Rowena Gbenoba, SD'09, a graduating Phillipino IDP student, made a tribute to Dr. Wolfram as she presented him the award. "Just a couple of days before the board exam," Dr. Gbenoba recalled, Dr. Wolfram "looked me in the eye and said, 'Don't you dare mess up the boards or I will send my goons to hunt you down.' That was the most loving threat I have ever heard in my entire life."
Dr. Gbenoba concluded, "Thank you, doctor, for sharing with us the wisdom of your years and for being the kind of person that you are. You have taught me that teaching isn't really payback time but a chance to pay it forward."