June 9, 2009
Carla Lidner Baum honored with ATHENA award
The recipient of the ATHENA award, presented annually by the Greater Riverside Chambers of Commerce, must meet three criteria: professional excellence, community service, and demonstrate a body of work in assisting women to achieve their full potential. Carla Lidner Baum, SD'90, MS, assistant professor of Dental Educational Services, is the 2009 recipient of that honor awarded her May 13 at historic Mission Inn Hotel and Spa, Riverside, California.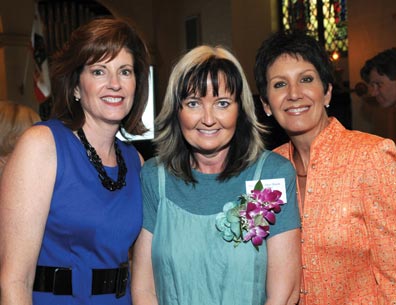 A 1978 graduate of La Sierra College (now university), Dr. Lidner considers herself, by contrast with so many of those she now lends a hand, a slow to mature child of privilege who was raised by "parents who loved me and . . . wanted me to get a good education"—"parents who also cared about every poor or needy person that they saw around them, and they literally did give away our last dimes sometimes to help those people."
In accepting her award, Dr. Lidner described early, youthful feelings that God "was always putting such good examples in front of me" that "I dreaded having to grow up and having to be THAT GOOD." She did postpone considerably the acquisition of a career, marriage and children, although it must be pointed out that she raised two foster brothers (now 29 and 31) for fifteen years before starting a family of her own.
Dr. Lidner was mature enough by 1997 to marry orthopedic surgeon Brad Baum—a relationship that gave her the opportunity to begin volunteering on projects that enhanced the lives of foster kids. Then it wasn't long, she says, "before many people invited me to join their boards of directors" for various philanthropic non-profit organizations such as the Family Services Association of Riverside County, the Community Foundation, Riverside Community Health Foundation, and Foundation of the Riverside County Philharmonic.
According to the Riverside Press Enterprise, Dr. Lidner has "spent years driving to San Bernardino County's deserts and cities looking for preschoolers in need of a better smile and less toothaches.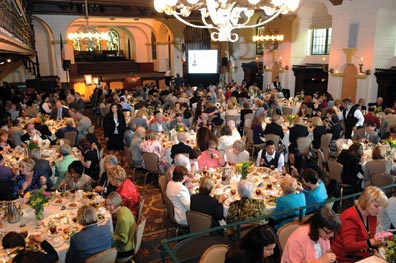 "She found them, and at the same time secured grants so she could find and help more. Today San Bernardino County's First 5 program has $3.7 million to pay for preschoolers to be driven to Inland dentists." She acquired another $600,000 for Riverside County youngsters as well. Because of Dr. Lidner's efforts, the two counties' programs "send about 10,000 low-income . . . children annually to dentists to assure they're infection free and their permanent teeth come in as they should."
At the close of her acceptance remarks, Dr. Lidner spoke of the indispensable women in attendance: a mother of three . . . who became "head of the UC Board of Regents," a "mother of four that . . . started a business to help save her family's financial situation and was so successful that the president of the US decided he needed . . . her . . . as a US Ambassador to foreign countries."
Those are the kind of women, along with volunteering "room-mothers and role models to kids that are not their own but who really need them," that, Dr. Lidner explained, in her tardy maturity she felt the need to emulate by working for the past decade "to pass along a fraction of the good that I have been shown in my life and to help hurting people around me."