June 10, 2009
Justin Weaver represents LLUSD at 45th Annual ADA Student Research Conference
Justin Weaver, SD'10, represented LLU School of Dentistry at the recent (May 3-5) 45th Annual American Dental Association Student Research Conference in Gaithersburg, Maryland. The annual conference provides an opportunity for students to present their research projects, to network, and to learn about new directions in dental research.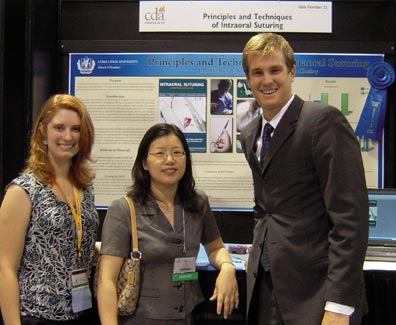 Justin presented a poster titled "Principles and Techniques in Intraoral Suturing" that he produced, along with his teammates Emily Herndon, SD'10, and Kari McCloskey, SD'10, in Student Research Design and Laboratory courses mentored by Wayne Tanaka, DDS, associate professor, Oral and Maxillofacial Surgery, and Mei Lu, DDS, MS, PhD, associate professor, Oral and Maxillofacial Surgery. Students attending the ADA Student Research Conference from all over the United States and Canada toured the campuses of the National Institute of Health and the National Institute of Standards and Technology.
Having the opportunity to meet with clinicians and researchers who are working passionately to find new and better ways to treat patients is a great opportunity that we hope more Loma Linda students will be able to experience. When asked about the trip Justin said, "I am grateful to Loma Linda University School of Dentistry and the American Dental Association for giving me the chance to be a part of this world. It is hard to be close to so much progress and not come away inspired; it has given me a new interest in education and research that I hope to make a part of my future as a dental professional."
Justin is current president of the Loma Linda Chapter for the American Association for Dental Research (AADR) National Student Research Group (NSRG). As the faculty advisor for NSRG and the course director of Student Research Design, I look forward to working with him to enrich the research portion of the School of Dentistry curriculum.
It is our continuing expectation that LLUSD students and graduates will explore new areas in oral health care and make significant contributions to dental research.