June 16, 2009
Faculty change in Pediatric Dentistry
The LLUSD Department of Pediatric Dentistry is saying farewell to two of its faculty. Both are heading to the State of Washington to be near family.

F. Robert Traficante, DDS, Director for the Advanced Education Program in Pediatric Dentistry, has been with the School for nearly two years. He came to us after retiring from a full career in the United States Navy, and brought with him a wealth of knowledge that included special expertise in medical emergencies. Along with his department responsibilities, he taught Advanced Cardiac Life Support and Pediatric Advanced Life Support for Life Support Education. He also led the Program through the recent successful accreditation. Dr. Traficante departs on June 30, 2009, and will be much missed.
Before his departure on September 4, Richard L. Grabowsky, DDS, assistant professor, Department of Pediatric Dentistry, will celebrate his fifth year of service at LLUSD. In 2004 Dr. Grabowsky left a private practice in Bakersfield, California, to join the School. Along with his departmental duties, Dr. G, as he is affectionately called, participated tirelessly in service learning. Almost every week he has taken students to underserved communities in the Crest dental mobile van—a vehicle that he has been instrumental in maintaining. He also has taken yearly mission trips to provide dental treatment to Navajo children at the La Vida Mission in northwest New Mexico.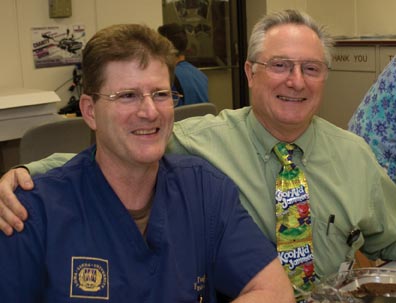 We wish both Dr. Traficante and Dr. Grabowski the very best on their next appointments, and look forward to the time when we are done with goodbyes.