July 6, 2009
New Endodontic Diplomates
During the Annual Session of the American Association of Endodontists, April 30, 2009, two alumni of the LLU School of Dentistry Advanced Education Program in Endodontics received recognition by the American Board of Endodontics for successfully completing their certification. Receiving their Diplomate pins were Manouchehr Pouresmail, DDS, MA (below left), and Robert Handysides, DDS (below right).

Dr. Pouresmail graduated from LLUSD's International Dentistry Program in 2003, then completed his endodontic certificate in 2005 and a Master's degree in implant dentistry in 2008. He has a practice limited to endodontics and implant dentistry in Bakersfield, California.

Dr. Robert Handysides, a 1993 graduate of LLUSD, practiced six years of general dentistry in Canada before joining the Schools endodontic program faculty. After graduation in 2001 he stayed on to teach. Dr. Handysides is an associate professor of endodontics, director of the Faculty Endodontic Practice, and newly assigned chair of the Department of Endodontics.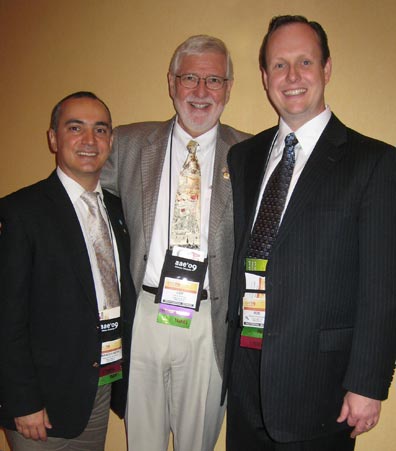 Bracketed by the new Diplomates is Dr. Leif K. Bakland, the Ronald E. Buell Professor of Endodontics. Dr. Bakland was the featured presenter at the Louis I. Grossman Memorial Luncheon during which the new specialty Diplomates received their recognition pins. The title of Dr. Bakland's presentation was "Success Through Adversity," a description of the challenges facing the specialty as it has developed over the past century.