July 8, 2009
Dr. Roggenkamp's aircraft becomes instructor
Appreciation for higher education and foreign mission service recently led LLUSD associate Professor Clyde Roggenkamp, SD '70, MSD, MPH, to contribute his Cessna Centurion II to the aviation program at Andrews University. There it will provide training and instruction opportunities for prospective traditional and bush mission pilots.
After an initial six years in private practice, Dr. Roggenkamp recognized the importance of advanced training in a specialty area; but lingering educational and practice startup debt made that goal seem a distant prospect—unless he might be recruited into a branch of the U.S. military services. But with his age (he was 34 and the ceiling for applications was 35), and a number of Air Force induction requirements, the calendar was closing in. Nevertheless, with the assistance of a United States Congressman (chair of the U.S. Armed Forces Committee) from Massachusetts, where he practiced at the time, and a higher-level administrative provision to bypass prevailing regulations, he was inducted into the Air Force with the rank of major in 1976.
Dr. Roggenkamp's initial attempt to acquire Air Force graduate education sponsorship was in periodontics. Unfortunately that program had been experiencing administrative challenges so he re-applied to operative dentistry. With time, patience and special consideration from the graduate training selection committee, he was granted full sponsorship for the two-year civilian MSD program at Indiana University. Melvin Lund, DDS, MS, who had been his restorative dentistry professor at LLUSD, was chair of Indiana's graduate operative dentistry department. Charles Goodacre, DDS, MSD, dean Loma Linda University School of Dentistry, was the prosthodontics chair and Yiming Li, DDS, PhD, MSD, director of the Center for Dental Research, was a doctoral candidate in dental materials. Others formerly at Indiana University and now serving as LLUSD faculty include Patrick Naylor, DDS, MPH, MS, associate dean for advanced dental education, and José Torres, DDS, assistant professor, restorative dentistry. "What providence that we all ended up here on the staff at LLUSD," Dr. Roggenkamp muses.
Besides Indiana, Dr. Roggenkamp's Air Force service found him stationed at various times in Omaha, Nebraska; Okinawa, Japan; Washington, DC; Goldsboro, North Carolina; Lakenheath, England; and San Antonio, Texas. But it was his assignment in 1988 to Seymour Johnson Air Force Base (home of the 4th Fighter Wing) in North Carolina that spurred Dr. Roggenkamp to take flying lessons—where, he says, it was partly the closeness to Kitty Hawk (birthplace of human flight) that inspired him to look in the Yellow Pages to find his first flight instructor. Firmly committed to flying, Dr. Roggenkamp thought that he might as well take the first solo in his own plane, which led to the purchase of a Cessna 172 Skyhawk. In two years he graduated to a Cessna 177 Cardinal that he flew for another two years before acquiring the Cessna 210 (Centurion) that he flew for 16 years.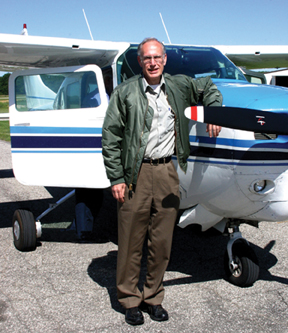 One of the more harrowing journeys that Dr. Roggenkamp made in the Centurion was a ferrying flight across the North Atlantic to Lakenheath AB, England (1994) and back (1996). The return journey was chronicled in a Norwegian publication, Vi Menn, to celebrate the tenth trans-Atlantic ferrying trip in a small plane by Dr. Roggenkamp's co-pilot, J. T. Börge.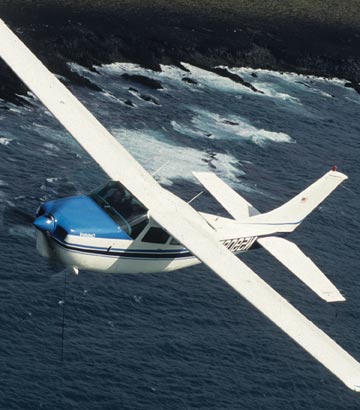 Dr. Roggenkamp retired from the Air Force in 1997 as a lieutenant colonel, and has continued to fly, albeit much less than he would wish. The Centurion is an excellent aircraft, worth more for its speed, payload, and reliability than for its mere Blue Book value; and it was exciting to consider that it might serve more effectively in an educational and mission-oriented environment. Through a personal friend at Gospel Outreach, Dr. Roggenkamp learned that there was a real need at his undergraduate alma mater's (Andrews University '63) mission pilot training program for a high performance single-engine plane of this type.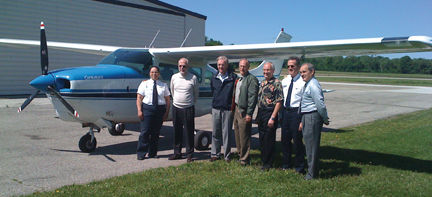 In June, Dr. Roggenkamp piloted the Centurion from Redlands, California, half way across the country to Berrien Springs, Michigan, where the Andrews University administration and Department of Aeronautics representatives accepted his Cessna 210 as a significant addition to their flight training certification fleet. At that nationally recognized training center the plane potentially provides re-certification capability for many pilots, including those from Mission Aviation Fellowship, Adventist Worldwide Aviation, and Gospel Outreach.
Whether or not Dr. Roggenkamp may yet have opportunity for mission service himself, there is the assurance that his plane will continue to provide instruction for pilots to utilize anywhere that flying is needed to spread the Good News.