September 2, 2009
Jung-Wei (Anna) Chen appointed program director, Advanced Education in Pediatric Dentistry
LLUSD is pleased to announce the appointment of Jung-Wei (Anna) Chen, DDS, MS, PhD, as director of the School's Advanced Education Program in Pediatric Dentistry effective August 1, 2009.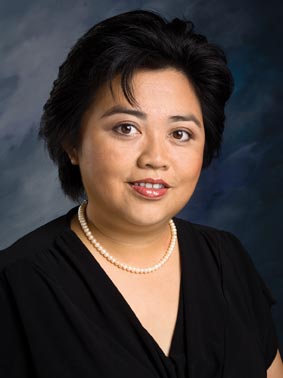 Dr. Chen was born and raised in Taipei, Taiwan, Republic of China. She earned her Doctor of Dental Surgery in 1996 at the Taipei Medical College School of Dentistry.

During dental school, Dr. Chen was lead soprano and conductor/instructor of the Taipei Medical College chorus that won three championships under her direction. She met her husband-to-be, Dr. Juimin Su, a prosthodontist, while they each were completing internships at General Veterans Hospital in Taipei.

After working (1996 to 1998) as a resident and teacher's assistant in pediatric dentistry at Taipei Medical University, Dr. Chen studied Advanced Education in Pediatric Dentistry at the University of Maryland, Baltimore campus, graduating in 2000 with an MS in Oral Biology.

Over the next seven years Dr. Chen taught (as assistant and then associate professor) in the Department of Pediatric Dentistry at The University of Texas Dental Branch at Houston, and studied at that university's School of Health Information Science, where she earned her doctorate in Health Informatics in 2007.

During her years at the University of Texas, Dr. Chen's research explored oral manifestations and dental care in HIV-infected children, child temperament related to sedation outcome, cleft lip and palate treatment options, and periodontal disease in children with Type 2 diabetes, as well as such pedagogical concerns as interdisciplinary teaching approaches in IT course development and web-based education in oral pathology.

The recipient of numerous awards, scholarships and, grants in both Taiwan and the United States, since August 2008, Dr. Chen has been a full-time associate professor in the LLUSD Department of Pediatric Dentistry. She is both a fellow of American Academy of Pediatric Dentistry and a diplomate of the American Board of Pediatric Dentistry.