September 4, 2009
Milestone graduation at Lloyd Baum School of Dentistry, Montemorelos University
Twenty students, the first to graduate at Montemorelos University's Lloyd Baum School of Dentistry, received their degrees May 31, 2009.

The Montemorelos school of dentistry was the dream of Dr. Lloyd Baum, long-time faculty at Loma Linda University School of Dentistry. His involvement at Montemorelos University began in 1965 when his lectures at a dental convention in Monterrey, Mexico, resulted in an invitation to join the local dental association. Repeated visits to the site alerted Dr. Baum's attention to the Montemorelos University's establishment of a school of medicine in 1974. His first proposal to create a dental presence on the campus was prepared with the assistance of Dr. Robert Kinzer, then faculty in LLUSD's restorative dentistry program and president of NASDAD. Their proposal, presented to the General Conference of Seventh-day Adventists leadership, described a dental residency program on the university campus for dentists (more than 100 Adventist dentists were practicing in Mexico). As a result, a two-chair dental clinic opened with Carl Mundy, SD'58, as staff.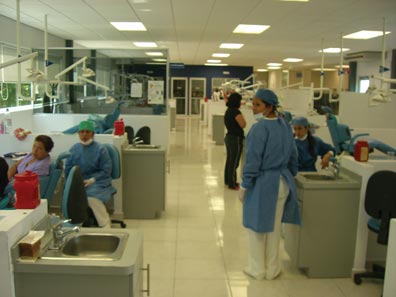 Dental Students work in a 21st century clinic at the Lloyd Baum
School of Dentistry
In the early '80s, Dr. Baum and several of his colleagues advanced plans for a dental laboratory technology program on the Montemorelos campus. The indefatigable dentist waded through a maze of blockades to see the opening of the dental laboratory technology program—a two-year, certified and credentialed program—in 1984.
By 1999, Dr. Baum's efforts, supported by colleagues from LLUSD, had turned to the complexities of creating a school of dentistry at Montemorelos. Five years later, the first class enrolled in the Lloyd Baum School of Dentistry. Dean Hector Navaro would preside at the 2009 graduation of the class members.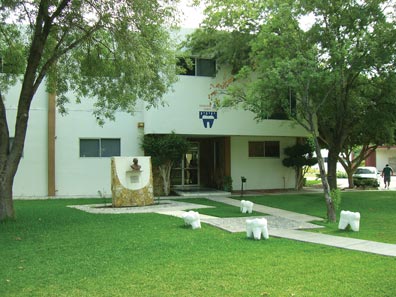 The bust at the laboratory Technique Building entrance identifies
Lloyd Baum who persevered for 40 years to see the opening of the
dental school that bears his name.
Dean Navaro, an orthodontist from Victoria, Mexico, and his faculty have embraced principles of professional excellence introduced by faculty from LLUSD and NASDAD. And students participate in a program modeled after LLUSD's service learning component, working in mobile and stationary clinics as well as in remote areas, where they provide free treatment. The dean points with appreciation to the bust of Dr. Baum at the entrance of the school's clinic. "Everyone on this campus knows about Dr. Baum's unremitting efforts to see this school established," a colleague comments.
And twenty new dentists are spilling out into their native country, enriched by the principles of professional excellence and service orientation borrowed from their sister school, Loma Linda University School of Dentistry.