September 4, 2009
Dr. Caruso directs major transfer
A few months ago, Dr. Joseph Caruso, SD'73, MS'75, MPH'75, associate professor and chair, Department of Orthodontics and Dentofacial Orthopedics, was appointed LLUSD associate dean for strategic initiatives and faculty practices. His subsequent flurry of activities has been commensurate with the title.
Dr. Caruso directed the renovation and build-out by the School of a new building at 159 Hospitality Lane in south San Bernardino--19,600 handsome square feet on three levels, three miles northwest of the School's Prince Hall. By early July he had directed the transfer of the Department of Orthodontics and the Advanced Education Program to the second, 9,000-square-foot story of the new facility, nearly doubling the space orthodontics had occupied in Loma Linda.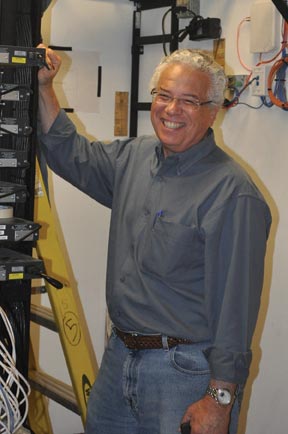 Dr. Caruso oversees the hi-tech buildout of the
Center for Dentistry and Orthodontics on
Hospitality Lane.
The building's first floor will soon be the new home of the Faculty Dental Office, another 9,000 square feet that represents an enormous relief to the practitioners in so many specialty areas who have been for years shoehorned into a 3,500 square-foot house with no patient parking. For the first time FDO patients will have an obvious place to park.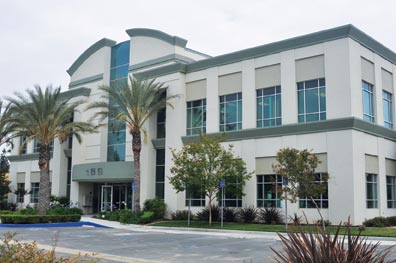 The modern structure's 1,600 square foot mezzanine will also provide welcome classroom options for orthodontic graduate students with a bird's eye view of their new neighborhood.
It is not only the additional breathing room that makes the new space such a logistics upgrade. Dr. Caruso has worked closely with the staff of Dental Computer Services to equip the entire space with closed circuit TV monitoring--from patient waiting rooms, to operatories, to hallways. It has been wired throughout for state-of-the-art internet connectivity.
Aldous Huxley was mistaken. Sometimes technological progress does provide a more efficient means for going forward.