September 4, 2009
Ron Dailey appointed Executive Associate Dean
Ron Dailey, PhD, has been employed by the LLU School of Dentistry for 34 years, since June 23, 1975.
Initially it was Loma Linda University (La Sierra campus) Business Department chairman Wilfred Hillock—moonlighting as a consultant to the School's DAU-TEAM program (1971-1985)—who, along with program director, Dr. Gilbert Dupper, recruited Dailey as he was completing a master's degree in education and counseling from Walla Walla College. On a seasonal break from school, the graduate student had to borrow presentable clothes from his much shorter father to sit for the interview. Dailey, who was seriously considering whether to join the Peace Corps or complete his PhD, accepted the offer in 1975 and joined the School as an instructor with the Department of Preventive and Community Dentistry. In July of 1978 he was promoted to assistant professor, and became director of Admissions and Student Affairs; in 1986 his title changed to assistant dean for admissions and student affairs.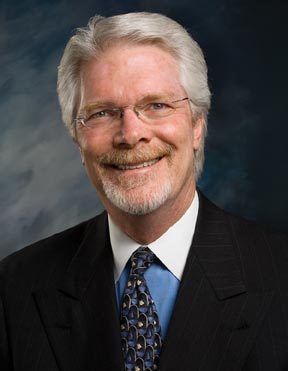 Ronald J. Dailey, PhD
Between 1987 and 1993, Dr. Dailey spent much of his time at the University of Southern California pursuing a doctoral degree in Higher and Professional Education—the plum offered by Dean Judson Klooster, DDS, when Dailey was contemplating an attractive offer from the LLU Medical Center. Another plum came to Dailey in 1988, in the person of Karen Winston, MD, a Loma Linda University pediatric resident who graduated and married the USC doctoral candidate that year.
On September 30, 1993, Dr. Dailey was appointed associate dean for academic affairs, replacing—effective January 1994—his retiring predecessor in the northwest corner office of Prince Hall's fifth floor. Most importantly, he successfully defended his doctoral dissertation in autumn of the year. Dailey's research focused on a re-analysis of the relationship of psychomotor and perceptual skills to student performance in dental school. While the findings documented the potential to add to the validity and reliability of the dental school entrance testing, at Loma Linda it resulted in the elimination of the clay modeling test, and the block-carving requirement became only an adjunct to the Dental Admission Test.
The year 1994 was a period of stress for Dr. Dailey. In his new position, and having just defended his doctoral dissertation (Fall 1993), he soon discovered that the School would be facing a site visit in early 1995 and that significant work remained to prepare the self study required by the Commission on Dental Accreditation (CODA) investigators in anticipation of their visit.
To complicate matters further, Dr. Judson Klooster, who had been LLUSD dean for 23 years was experiencing significant health challenges that limited his work schedule. Although the incoming dean, Charles Goodacre, DDS (hired June 1994), did not leave his post at the University of Indiana until September, he also devoted substantial time and effort to helping Dailey edit and strengthen the self-study drafts.
With the acquisition of his Doctor of Philosophy Degree in Higher and Professional Education from USC in 1994, Dr. Dailey was promoted to associate professor, Department of Dental Educational Services; and a year later (September 1995) he was named the Department's acting chair, a position he continues to hold.
Appreciating the pedagogical arts as he does, one of the more meaningful accomplishments of Dr. Dailey's teaching and administrating career has been writing, with LLU professor of biostatistics Jay S. Kim, PhD, a ground-breaking textbook, Biostatistics for Oral Healthcare, published by Blackwell Munksgaard in 2008 (344 pp.), that M. E. Munn calls the "first solid biostatistical text completely devoted to oral health research. It is not only an excellent introductory biostatistical text, but it is well-written with lots of problems and examples from real-life dental research."
On June 1, 2009, after 15 years as associate dean for academic affairs, Dr. Dailey was named executive associate dean, Loma Linda University School of Dentistry—a position that justified an accumulating list of duties he was already performing.
Among the honors Dr. Dailey has received is his honorary membership in Omicron Kappa Upsilon—a society that was established in 1914 at Northwestern University Dental School in Lincoln, Nebraska, to promote and recognize scholarship and character among students of dentistry. He has also been selected for Teaching Excellence awards in 1986 and 1987; and the School of Dentistry's Distinguished Service Award in 2001.