September 4, 2009
Steven Filler's strange patients
Steven Filler, SD'81, says he didn't expect to stay when he went to the University of Alabama School of Dentistry for a residency in hospital dentistry after completing his dental education at Loma Linda University School of Dentistry. He is now University of Alabama School of Dentistry's associate dean in charge of students, alumni, and external affairs. Nor did Dr. Filler expect his practice would include treating totally uncooperative patients that won't brush, won't floss, and won't listen to you.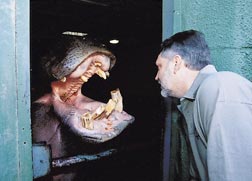 His sometime patients live at the local zoo. It started when the zoo's polar bear developed a massive oral infection. Four or five Alabama School of Dentistry residents converged at the bear's cage. Assured that the bear was anesthetized, Dr. Filler's resident colleagues entered the cage, and immediately fell back when the bear took a swipe at them; fortunately it was too groggy to do extensive harm. Dr. Filler's colleagues quit on the spot, declaring, "We just finished dental school and almost got killed trying to treat a polar bear."
The vet turned to Dr. Filler, who judiciously had waited outside the cage to determine if the bear was sufficiently sedated. "I guess you will go too," the vet said. That was 1983. Dr. Filler stayed.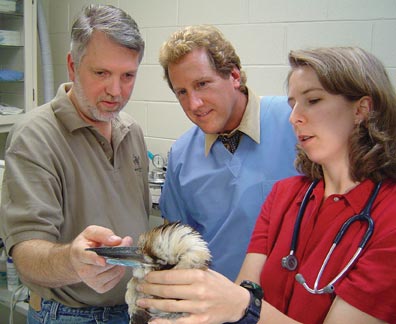 Dr. Filler examines a kookaburra's fabricated bill
It was necessary to learn on the job. He recalls animals that became his patients in the past 25 years, "everything with teeth and quite a few without teeth." A turtle needed repair on its shell. A rattlesnake with gum inflammation had pieces of a devoured mouse lodged between the gum and tooth. He treated a duck with a malformed bill, an elephant with tusk problems. There were river otters, leopards, tigers, chimps, orangutans, and gorillas. A gorilla presented an amazing fungal infection of such interest that its case was presented at a veterinary meeting.
"Every animal is an interesting case," says Dr. Filler. "We don't know what the problem is; they aren't disposed to tell us where the pain is." He shows up at the zoo in a modified dentist's uniform—scrub top and jeans, the usual mask, goggles, and gloves.
He usually has four to six dental students from the school with him. Sometimes his wife assists. A retired biology teacher, she shares Dr. Filler's love of animals.
Initially, most of his dental treatments were staged in cages—using a flashlight, bending over the animal. Today the animal comes to a clinic furnished like a hospital examining room.
Early on, Dr. Filler became concerned about the public's feeding of the animals sometimes prefaced by remarks such as, "I wonder how they'll like M & M's." Dr. Filler initiated a successful campaign to stop the public feeding. "I was impressed that their health problems plummeted," he says. "Once we got their diet regulated, it really made a difference."
Dr. Filler's patients get more regular treatment from the zoo veterinarian. During the animals' routine checkups, which include blood tests, the vet examines their dental status. If an animal quits eating, or drools, or has oral swelling, Dr. Filler gets a call.
Almost all of his animal patients are exotic in nature. But Dr. Filler recalls a prince of a animal patient: a friend's Irish setter that had fallen and broken a tooth. That dog sat in the owner's lap in Dr. Filler's private practice operatory. "I couldn't reliably put him to sleep," says Dr. Filler. "I took x-rays, gave a local anesthetic, and did a root canal procedure on that totally cooperative dog." (His own dog is "totally uncooperative," he adds.)
"I got great training at Loma Linda and the University of Alabama," says Dr. Filler. Adapting his professional expertise to his exotic patients, he has extended his alma mater's stated mission in order "to make God's creatures whole."