September 4, 2009
Distinguished alumnus 2009 named to new position
"Presenting the Distinguished Alumnus award is a highlight for me each year," said School of Dentistry Dean Charles Goodacre, SD'71, MSD, as he feted Tom Rogers, SD'83, MPH (SPH'77), associate professor of Dental Educational Services. Dr. Goodacre believed "the Alumni Association showed remarkable foresight in predicting the strong results of the 2009 accreditation site visit," because it was Dr. Rogers, the dean reminded the assembled alumni, "who helped produce eight large binders of information on the pre-doctoral, dental hygiene, and five postdoctoral programs." (He had provided the same service in 2002). While thanking this year's distinguished alumnus with a plaque of appreciation for all of his service to the School, the dean quipped, "Don't forget, Tom, this happens again in seven years."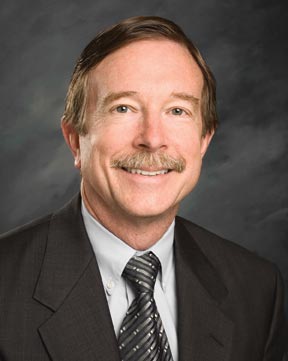 Dr. Tom Rogers
Since receiving that award, Dr. Rogers has been appointed to a newly created position: director of faculty and leadership development. "With respect to faculty development," Dr. Rogers says, "the purpose of this position is to help faculty achieve the expectations of the School of Dentistry for faculty participation in clinical, scholarly and service activities. Regarding leadership development, the intention is to identify and facilitate the acquisition of management knowledge and training that is appropriate for individuals who will take leadership positions in the School."
Although Dr. Rogers has been on the full-time faculty since 1995, he took a circuitous route to dentistry. Graduating from UC Berkeley in 1971 with a degree in biological sciences, he earned a master's degree in marine biology from California State University Long Beach in 1977. Three years later he enrolled at the LLU School of Dentistry. After twelve years of private practice in Redlands, California, Dr. Rogers joined the School of Dentistry faculty. In 1997, along with Mike Fitzpatrick, SD'86, professor of Restorative Dentistry, he started the pilot clinic program to test the group practice instructional model that now is integrated across the School's pre-doctoral curriculum. He was president of the Alumni Association (2000-2001) and coordinated the Commission on Dental Accreditation self study the very next year.
Taking a break of sorts in 2002, Dr. Rogers completed the Training in Clinical Research program at UC San Francisco. Later that year he wrote a grant application to the federal Health Resources Services Agency to fund a training program for students that addresses the unique challenges in treating patients with HIV disease. He continues to serve as the principal investigator and program director for the $320,000 annual Community-Based Dental Partnership Program grant. Since 2003, this training has contributed to the education of approximately 160 senior dental, IDP and dental hygiene students each academic year.
An embodiment of the School's motto, "Service Is Our Calling," Dr. Rogers began in 1998 taking students on annual mission trips, first to Ecuador, then Mexico, and to Nicaragua each year since 2003.