September 10, 2009
Jay S. Kim, PhD, professor of biostatistics, retires
As he retires with mixed feelings at the end of the 2009 summer quarter, Jay S. Kim, PhD, professor of biostatistics and director of biostatistics core at the Center for Dental Research, believes "LLUSD . . . is in a uniquely strong position to attract many highly qualified statisticians. Only the luckiest statistician will have the opportunity to join the School and have the same privilege that I have enjoyed working . . . in this richly caring and loving environment."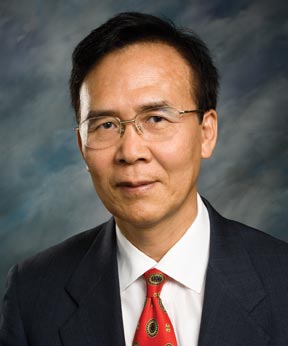 Jay S. Kim, PhD

Dr. Kim served as the School of Dentistry statistician, providing extensive consulting to faculty and students in their research projects as well as teaching the statistics courses for dental hygiene, dental, and advanced education program students. His dedicated mentoring has helped many students and faculty meet deadlines for table clinic presentations, theses defenses, and publication deadlines.
During his dozen years as a member of the School's faculty, Dr. Kim co-authored many scientific journal articles and was co-author, with LLUSD executive associate dean Ronald Dailey, PhD, of the first comprehensive statistics textbook, Biostatistics for Oral Healthcare, written with the dental health professional in mind.
For the past two years, Dr. Kim has been commuting between Loma Linda and South Korea where he teaches at Chonnam National University in the city of Gwangju. It is understandable that he has decided to live full-time in Korea with his wife who teaches there as a professor of music and well-known soloist. But as long as he maintains his residence in Riverside, Dr. Kim intends to visit Southern California twice a year.
A long-time member of American Statistical Association and International Association for Dental Research, Dr. Kim has served as a reviewer or referee for various journals in math, statistics, reliability engineering, and biomedical sciences. His research collaborations have resulted in over 50 refereed journal papers. He has taught students from dental school, medical school, school of public health, school of nursing, and graduate school at Loma Linda University. He has supervised and directed thesis research as well as student projects. His specialty area is survival analysis and reliability theory.
Expressing his appreciation for "how each and every one of you has contributed . . . to my professional growth and enriched my life, Dr. Kim said it has been his special privilege and honor to work with LLUSD faculty and teach the School's inspiring students."