September 16, 2009
Athletic complex named for LLUSD alumnus
This summer Newbury Park Adventist Academy dedicated its new Bruce Pence Sr. Athletic Complex to its late board chair, Bruce A. Pence, SD'65. The complex includes a new gymnasium, a swimming pool and a large field for baseball and soccer.
Photo credit: Gretel Fontana
At its opening ceremony on May 12, Newbury Park principal Harold Crook explained that early in 2008 the Academy's board had conspired to surprise Dr. Pence by dedicating the Athletic Complex to him at its opening in 2009 as a way of thanking him for his years of dedicated board chairmanship. Sadly, the surprise was foiled by Dr. Pence's untimely death in October of 2008. (For twenty years, 1994 to 2004, Dr. Pence served in administrative roles at LLUSD's International Dentist Program.)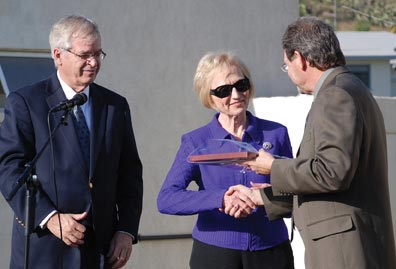 Photo credit: Gretel Fontana
During the Athletic Complex dedication ceremony, Patricia Pence accepted a plaque commemorating her husband's 25 years of service to Newbury Park Adventist Academy.