October 5, 2009
Loma Linda chapter for AADR NSRG established
A Loma Linda Chapter of the American Association for Dental Research (AADR) National Student Research Group (NSRG) has recently been established. Justin Weaver, SD'10, president; Scott Arceneaux, SD'11, vice-president of Technology; Kirollos Zakhary, SD'11, vice-president of public relations; and Michael Knutson, SD'11, secretary; are working with faculty advisors Mei Lu, DDS, MS, PhD, associate professor, Department of Oral and Maxillofacial Surgery, and course director for Research Design; Yiming Li, DDS, MSD, PhD, director, Center for Dental Research; and Ronald Dailey, PhD, executive associate dean for academic affairs to improve the student research opportunities at LLUSD.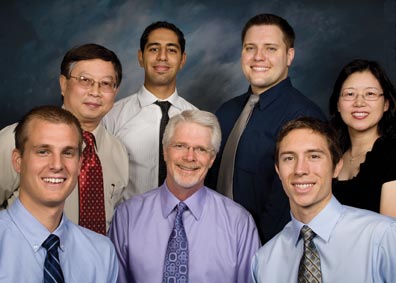 The chapter's goal is to better facilitate research opportunities for those School of Dentistry students who are interested in research in oral healthcare/craniofacial biology. Popular and rapidly growing areas of active research at Loma Linda University School of Dentistry include orthodontics, anesthesiology, oral and maxillofacial surgery, oral medicine and pathology, cosmetic dentistry, and pulp biology.
The LLU NSRG chapter intends to assist those students interested in research to find a mentor, join an existing research project, or initiate research. For the purpose of bridging the research interests of students and faculty, the new chapter will establish a website to report news and ideas about LLUSD research, and to provide a bulletin board where faculty and students can post notices or inquiries about various research projects.
As a supplement to research, journal clubs are an excellent way of familiarizing students with current research in their fields of interest.
From the time they enter dental school, students are encouraged to become Student Research Group members. If you are interested in joining the Loma Linda chapter for AADR/NSRG, please feel free to contact Michael Knutson, SD'11, at mknutson@llu.edu