October 7, 2009
Endodontics' new microscopes
Robert Handysides, DDS, chair, Department of Endodontics, reports that the department has recently installed four new Zeiss OPMI Pico operating microscopes in the predoctoral clinic. By integrating the microscopes on the clinic floor, the faculty hopes to achieve several goals. First and foremost is to further educate predoctoral students to the necessity of good magnification and illumination in treating patients with endodontic needs.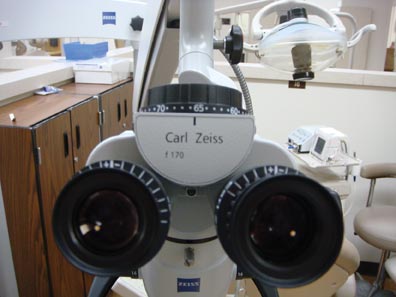 Dental operating microscopes, with high magnification and good light sources, are quickly becoming accepted as a necessity in endodontics. It is important for predoctoral students to get some exposure to such innovative equipment prior to graduation.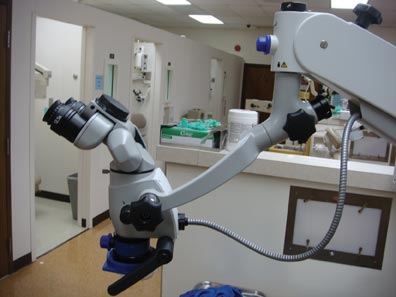 On another note, the concern for adequate training and competence is always being evaluated. It is the faculty's hope that with the addition of the microscopes (and better visualization), some of the more challenging endodontic cases that in the past have been referred to graduate students can now be treated in the predoctoral program. The new microscopes represent a great opportunity for the dental students to achieve better "insight" into the tooth's pulpal anatomy.
The Department of Endodontics long-range goal, Dr. Handysides says, is to have eight microscopes—one for each predoctoral endodontic operatory. Each of these microscopes, it is hoped, will be equipped with video imaging through the microscope and a live feed to a monitor. This capability will have a dual advantage. First, it will enhance patient care, because instructors will be able to see exactly what a student is doing and minimize any procedural accidents. Second, it will provide the ideal learning tool—the students' ability to observe as an instructor demonstrates a procedure or identifies landmarks. Faculty from other departments in the School are invited to come and see the new additions to the clinic.