October 8, 2009
William Heisler, DDS, Rotarian
William Heisler, SD'59, professor, Department of Restorative Dentistry, has been a dentist since he graduated from LLUSD in 1959, and a Rotarian since 1991. Over the years Dr. Heisler has found a profoundly positive purpose for mixing the two, and certain people in Russia's Far East are very grateful that he has.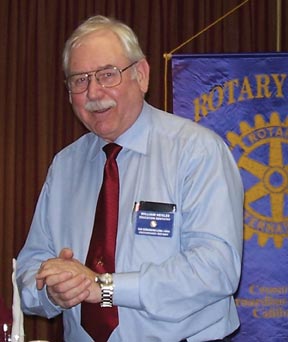 Fresh out of dental school, Dr. Heisler opened a private practice in Springfield, Oregon, before spending four years in the U.S. Army Dental Corps where he served as the prosthetics officer in Mainz, Germany, until 1966, when he departed the service with a rank of Captain.
Captain Heisler established a private practice in Novato, California, about 30 miles north of San Francisco—a practice he maintained until 1980 when he was recruited to the School of Dentistry faculty. At the School Dr. Heisler has taught and conducted research in both the Department of Restorative Dentistry and the International Dentist Program, and served (between 1991 and 1999) as associate dean for clinical administration.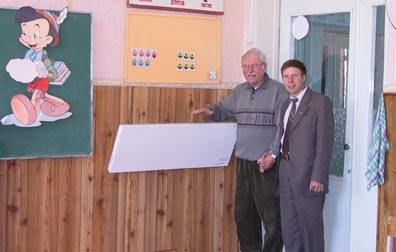 Between those professional and pedagogical activities Dr. Heisler began in 1998 to sandwich service-oriented activities with the San Bernardino-Loma Linda Crossroads Rotary Club (District 5330). In the spring of 1998 a presentation was made to the annual District assembly about the severe need for dental services among the children of Russia's Far East that resulted in a long and fulfilling relationship between Dr. Heisler's Rotary Club, other partner Rotary clubs, Rotary International, the Russian Far East, Armenia, Africa and India that included four trips by Dr. Heisler to Magadan and Palatka, Russia.
In 1998 Dr. Heisler traveled to Russia to gather information from Rotarians and dentists about the oral healthcare needs, especially of Russian children. A year later he led a group of dentists, a health educator, and two Russian speaking Rotarians on a two-week trip to Magadan and Palatka to provide acutely needed dentistry for approximately 150 children, as well as to present dental lectures to students and dentists at Magadan Regional Medical College.
Nearly three years later, September 2001, in the company of a Russian-speaking dentist, Dr. Heisler spent a fortnight in Russia installing dental operating units to serve the needs of Russian children. On another trip to Palatka in June of 2003, Dr. Heisler installed in that city's dental clinic its very first dental x-ray unit—a state-of-the-art digital model that requires no film or dark room.
Changing direction, Dr. Heisler's Rotary chapter acted as the host club for a $25,000 reverse grant from India's Bangalore East Rotary Club. The grant purchased an EKG and ultrasound machines for the Loma Linda University Social Action Health Clinic in San Bernardino.
In his most recent association with Rotary International's Matching Grant Program, Dr. Heisler raised funds to provide cataract surgery and follow-up care to 500 indigent adults in Punganur, India.
Dr. Heisler's efforts have not gone unappreciated. In 2003 he received The Rotary International Service Above Self Award—Rotary International's most prestigious award. And on July 19, 2009, for all of his "work [that] will make a big difference in the world," Dr. Heisler was honored with District 5330's "Rotarian of the Decade" award, the only such award ever bestowed.