October 23, 2009
2009 LLUSD alumnus stars in
Eric Grove, SD'09, and Ruchi Nijjar Sahota, DDS, recently introduced themselves as the hosts of "Straight From the Mouth," the American Dental Association's video podcast program that was rolled out at its recent annual session in Honolulu.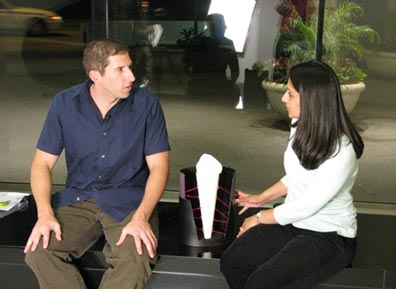 Last year's ADA House of Delegates approved a plan for the Council on Communications to develop patient-oriented podcasts (video and audio productions posted on the Internet and designed for playback on computers or portable digital players such as iPods) to help establish the American Dental Association as a trusted resource of oral health information, particularly among younger patients who increasingly seek health information online.
About 40 ADA members submitted audition videos earlier this year in hopes of hosting the podcasts. But it was David Dodell, DDS, a past member of the Council on Communications, and consultant to the podcast project, who happened to see an LLUSD class of 2009 video spoof on the television sitcom, The Office (available: www.funnytooth.com), produced during Eric's D-3 year, that piqued his interest in the Loma Linda graduate as a host for "Straight From the Mouth."
Posted monthly, the podcasts are a new resource for people seeking health information online and will be available on iTunes and the ADA Web site ADA.org. The podcasts feature such dental health topics as tooth whitening, overcoming dental anxiety, dental care for children and dental care while traveling to other countries.
It is obvious from watching a few episodes of Straight From the Mouth that the young, co-hosting clinicians are enjoying their new-media educational gig. "We're having a lot of fun with these, but at the heart of each episode is sound clinical and scientific information to help people maintain their oral health," said Ruchi Nijjar Sahota, a dentist practicing in Fremont, California, who co-hosts the show with Eric Grove, a 2009 graduate of Loma Linda University School of Dentistry.
The first episode of "Straight from the Mouth" focuses on overcoming dental anxiety. "Movies and TV shows make fun of dental anxiety," said Dr. Grove. "But people who suffer from it also can suffer the consequences of neglecting their teeth and gums, and that's no joke. In our podcast, we joke around a little, but we also offer practical tips to help people overcome anxiety. Regular dental care is important, and dentists want to make their patients' visits as comfortable as possible."
Subsequent topics cover oral piercing, tooth whitening and the importance of regular dental appointments.
View the first ADA podcast at
The next five podcasts cover the following topics
Overcoming Dental Anxiety
Whitening (coming soon)
Oral Piercing (coming soon)
Importance of Dental Checkups (coming soon)Dental Care While Traveling to Other Countries (coming soon)
The ADA intends its podcasts to provide "general information on dental treatments . . . [and] prompt discussion between dentists and patients about treatment options."